You are here
Back to top
The New Jim Crow: Mass Incarceration in the Age of Colorblindness (MP3 CD)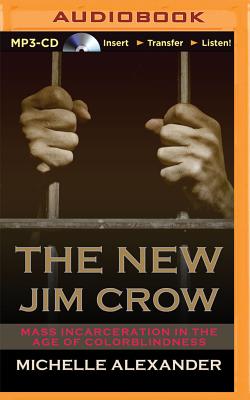 March 2010 Indie Next List
---
"In The New Jim Crow, Michelle Alexander tirelessly researches both the legal history of America's Jim Crow past and the current legal policies that contribute to the mass incarceration of black people. The text adds significantly to scholarship that contextualizes rates of incarceration among blacks and critiques of social and economic inequality."
— Bruce Smith, Colorado State University Bookstore, Fort Collins, CO
Description
---
In the era of colorblindness, it is no longer socially permissible to use race, explicitly, as a justification for discrimination, exclusion, and social contempt. Yet, as legal star Michelle Alexander reveals, today it is perfectly legal to discriminate against convicted criminals in nearly all the ways that it was once legal to discriminate against African Americans. Once you're labeled a felon, the old forms of discrimination--employment discrimination, housing discrimination, denial of the right to vote, denial of educational opportunity, denial of food stamps and other public benefits, and exclusion from jury service--are suddenly legal.
Take a Virtual Tour!
Do you miss the bookstore as much as we miss you? This is your chance to take a virtual walk around the store and visit your favorite sections. Click on the scene selection arrows at the bottom of the image to move to different parts of the store, and click on image icons to take a closer look at specific sections.