You are here
Back to top
Savage Inequalities: Children in America's Schools (MP3 CD)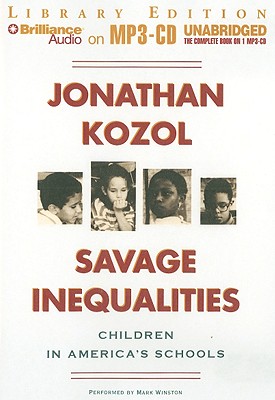 Description
---
For two years, beginning in 1988, Jonathan Kozol visited schools in neighborhoods across the country, from Illinois to Washington D.C., and from New York to San Antonio. He spoke with teachers, principals, superintendents, and, most important, children. What he found was devastating. Not only were schools for rich and poor blatantly unequal, the gulf between the two extremes was widening and it has widened since. The urban schools he visited were overcrowded and understaffed, and lacked the basic elements of learning including books and, all too often, classrooms for the students.
In "Savage Inequalities," Kozol delivers a searing examination of the extremes of wealth and poverty and calls into question the reality of equal opportunity in our nation's schools.
Take a Virtual Tour!
Do you miss the bookstore as much as we miss you? This is your chance to take a virtual walk around the store and visit your favorite sections. Click on the scene selection arrows at the bottom of the image to move to different parts of the store, and click on image icons to take a closer look at specific sections.