You are here
Stealing Mt. Rushmore (Hardcover)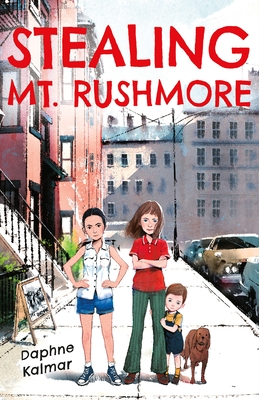 $16.99
Email or call for price.
Description
---
"Daphne Kalmar has created a wonderfully imperfect cast of characters and gathered them into a story that will break your heart. . . and heal it again. Stealing Mt. Rushmore has it all." —Marion Dane Bauer, author of the Newberry Honor novel On My Honor


In Stealing Mt. Rushmore, Daphne Kalmar brings to life the social and political upheaval of the 1970s, revealing the heart of a family on the verge of falling apart and the courage of a young girl who does all she can to bring them together.
She almost always made things worse. But at least she'd be standing there.
I hated her for stealing the money. But I want her back.

Nellie's dad had planned on having four boys to name after the presidents on Mt. Rushmore. He got George, Nellie, Tom, and Teddy. No Abe.

It's the summer of 1974. Nellie's turned thirteen. Her best friend, Maya, has a crush on a boy. President Nixon might get impeached. And her mom's run off. The money for their family road trip to see Mt. Rushmore is missing and her dad's crawled into bed and won't get up.

Nellie's sure the trip out West will fix her family, and she'll do almost anything to come up with the cash. But she begins to wonder why it's always her, the girl, who's stuck with the dishes and everything else. And how can a mom just up and leave with no note, no forwarding address, no nothing?
About the Author
---
Daphne Kalmar was an elementary and middle school teacher for over twenty years. Exploring the natural world with kids was her passion as an educator—she owned seventy-five pairs of rubber boots so she could outfit each new class in September and lead weekly expeditions to local creeks and ponds. She has an MFA from Vermont College of Fine Arts and is the author of A Stitch in Time, one of Bookpage and NPR's Best Books of 2018.
Praise For…
---
A Junior Library Guild Gold Standard Selection

"Once in a while in good books, very good books, a character comes along who is larger than life in her gritty reality, her strength and flaws, her basic humanity. Thirteen-year-old Nellie is a fighter and the resolution of her story is brilliant and multifaceted. I could not put it down." —Debby Dahl Edwardson, author of National Book Award Finalist, My Name Is Not Easy

"Daphne Kalmar has created a wonderfully imperfect cast of characters and gathered them into a story that will break your heart. . . and heal it again. Stealing Mt. Rushmore has it all." —Marion Dane Bauer, author of the Newberry Honor novel On My Honor