You are here
Back to top
Inheriting the Trade: A Northern Family Confronts Its Legacy as the Largest Slave-Trading Dynasty in U.S. History (Paperback)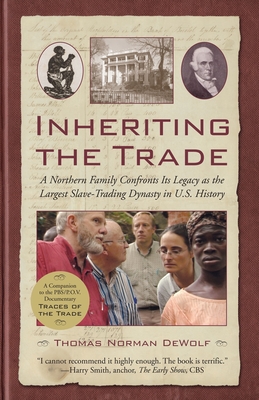 Description
---
A trailblazing memoir about one family's quest to face its slave-trading past, and an urgent call for reconciliation
 
In 2001, Thomas DeWolf discovered that he was related to the most successful slave-trading family in U.S. history, responsible for transporting at least ten thousand Africans. This is his memoir of the journey in which ten family members retraced their ancestors' steps through the notorious triangle trade route—from New England to West Africa to Cuba—and uncovered the hidden history of New England and the other northern states.
 
A difficult but necessary examination of the slave trade, racism, and privilege in the United States, Inheriting the Trade is a powerful call for white America to reassess what they have been taught about their own ancestors, about slavery and wealth, and about America both past and present.
About the Author
---
Thomas Norman DeWolf is the author of Inheriting the Trade and co-author (with Sharon Leslie Morgan) of Gather at the Table. He is featured in the Emmy-nominated documentary Traces of the Trade: A Story from the Deep North, which premiered at the Sundance Film Festival and aired on the acclaimed PBS series POV. DeWolf speaks regularly about healing from the legacy of slavery and racism at colleges, conferences, and workshops throughout the United States.
Praise For…
---
I cannot recommend it highly enough. The book is terrific.—Harry Smith, anchor, The Early Show, CBS

"DeWolf's intimate confrontation with white America's 'unearned privilege' sears the conscience." —Kirkus Reviews

"This soul-searching memoir . . . promotes conversation about 'truth of the past and its impact on the present.'" —Publishers Weekly

"Required reading for anyone interested in reconciliation." —Myrlie Evers-Williams, civil rights leader and author of The Autobiography of Medgar Evers

"[It's] like a slow motion mash up, a first-person view from within one of the country's founding families as it splinters, then puts itself back together again." —Edward Ball, author of Slaves in the Family

"An eye-opening volume. It not only dispels myths about slavery but also shows how that history haunts this country to this day." —Katie Schneider, the Oregonian

"It is [this] spirit of honesty and the willingness to confront the ugly parts of human experience that give Inheriting the Trade its value."—Marjorie Kehe, the Christian Science Monitor

"An artful merging of historical explication with biography and travelogue."—Mary Donnarumma Sharnick, America magazine

"A candid, powerful, and insightful book."—Professor Charles J. Ogletree, Jr., executive director, Charles Hamilton Houston Institute for Race and Justice at Harvard Law School
Take a Virtual Tour!
Do you miss the bookstore as much as we miss you? This is your chance to take a virtual walk around the store and visit your favorite sections. Click on the scene selection arrows at the bottom of the image to move to different parts of the store, and click on image icons to take a closer look at specific sections.