You are here
Back to top
Inheriting the Trade: A Northern Family Confronts Its Legacy as the Largest Slave-Trading Dynasty in U.S. History (Hardcover)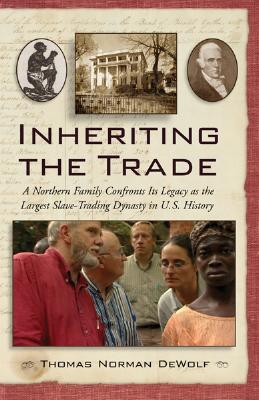 Description
---
In 2001, at forty-seven, Thomas DeWolf was astounded to discover that he was related to the most successful slave-trading family in American history, responsible for transporting at least 10,000 Africans to the Americas. His infamous ancestor, U.S. senator James DeWolf of Bristol, Rhode Island, curried favor with President Thomas Jefferson to continue in the trade after it was outlawed. When James DeWolf died in 1837, he was the second-richest man in America.

When Katrina Browne, Thomas DeWolf's cousin, learned about their family's history, she resolved to confront it head-on, producing and directing a documentary feature film, Traces of the Trade: A Story from the Deep North. The film is an official selection of the 2008 Sundance Film Festival.

Inheriting the Trade is Tom DeWolf's powerful and disarmingly honest memoir of the journey in which ten family members retraced the steps of their ancestors and uncovered the hidden history of New England and the other northern states.

Their journey through the notorious Triangle Trade-from New England to West Africa to Cuba-proved life-altering, forcing DeWolf to face the horrors of slavery directly for the first time. It also inspired him to contend with the complicated legacy that continues to affect black and white Americans, Africans, and Cubans today.

Inheriting the Trade reveals that the North's involvement in slavery was as common as the South's. Not only were black people enslaved in the North for over two hundred years, but the vast majority of all slave trading in America was done by northerners. Remarkably, half of all North American voyages involved in the slave trade originated in Rhode Island, and all the northern states benefited.

With searing candor, DeWolf tackles both the internal and external challenges of his journey-writing frankly about feelings of shame, white male privilege, the complicity of churches, America's historic amnesia regarding slavery-and our nation's desperate need for healing. An urgent call for meaningful and honest dialogue, Inheriting the Trade illuminates a path toward a more hopeful future and provides a persuasive argument that the legacy of slavery isn't merely a southern issue but an enduring American one.
Praise For…
---
"Exploring the links between a grand Rhode Island mansion and dungeons in Ghana, Tom DeWolf traces the infernal trade that gave his family, and this country, great wealth and power. His journey into the past forces painful questions to the surface and illuminates our present."—Henry Wiencek, Winner of the National Book Critics' Circle Award and author of An Imperfect God: George Washington, His Slaves, and the Creation of America

"Inheriting the Trade is a compelling invitation to explore how our country and many institutions, including churches, benefited from this dark chapter. Such exploration is essential if we are to move forward to a place of repair and racial reconciliation."—Frank T. Griswold, 25th Presiding Bishop of The Episcopal Church

"Tom DeWolf's deeply personal story, of his own journey as well as his family's, is required reading for anyone interested in reconciliation. Healing from our historic wounds, which continue to separate us, requires us to walk this road together."—Myrlie Evers-Williams, civil rights leader, chairman emeritus of the NAACP (1995-98), and author of The Autobiography of Medgar Evers, Watch Me Fly, and For Us the Living

"Inheriting the Trade is like a slow-motion mash-up, a first-person view from within one of the country's founding families as it splinters, then puts itself back together again."—Edward Ball, author of Slaves in the Family

"A candid, powerful, and insightful book about how one family dealt with the infamous slave trade. Jarring in its candor, and revealing in its honest assessment of slavery and the Dewolf family, we must read important books like this if we dare to appreciate every aspect of our history, and as the Dewolf family does, dare to change our judgments about the wretched history of slavery."—Professor Charles J. Ogletree, Jr., Executive Director, The Charles Hamilton Houston Institute for Race and Justice at Harvard Law School
Take a Virtual Tour!
Do you miss the bookstore as much as we miss you? This is your chance to take a virtual walk around the store and visit your favorite sections. Click on the scene selection arrows at the bottom of the image to move to different parts of the store, and click on image icons to take a closer look at specific sections.