You are here
Back to top
Two Nations: Black and White, Separate, Hostile, Unequal (Paperback)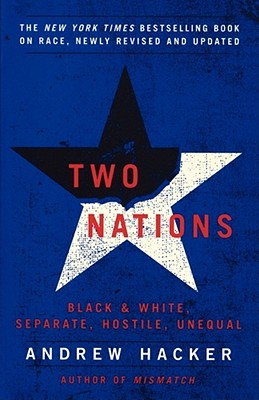 $18.99
Usually Ships in 1-5 Days
Description
---
Why, despite continued efforts to increase understanding and expand opportunities, do black and white Americans still lead separate lives, continually marked by tension and hostility? In his much-lauded classic, newly updated to reflect the changing realities of race in our nation, Andrew Hacker explains the origins and meaning of racism and clarifies the conflicting theories of equality and inferiority. He paints a stark picture of racial inequality in America -- focusing on family life, education, income, and employment -- and explores the current controversies over politics, crime, and the causes of the gap between the races. Illuminating and oftentimes startling, Two Nations demonstrates how race has defined America's history and will continue to shape its future.
About the Author
---
Andrew Hacker is a professor of political science at Queens College in New York City. He is the author of Mismatch and Money, as well as eight other books, and is a frequent contributor to The New York Review of Books, Time, and Fortune, among other periodicals. Mr. Hacker lives in New York City.
Praise For…
---
The Wall Street Journal A telling portrait of American life.... The numbers are stark and irrefutable.

The Boston Globe Devastating....We are left with the crushing effect of what we have done to ourselves by using race as our defining tool and lying most of the time about what we are doing.

The New York Times Book Review Challenging....The real value of this book is in Mr. Hacker's calm, analytical eye [and] his unblinking view of American history.

Claude Brown Author of Manchild in the Promised Land Provocatively enlightening....Probably the most candid book on present-day American racism.

Alex Beam The Boston Globe Provocative...eloquently written [and] in-your-face.
Take a Virtual Tour!
Do you miss the bookstore as much as we miss you? This is your chance to take a virtual walk around the store and visit your favorite sections. Click on the scene selection arrows at the bottom of the image to move to different parts of the store, and click on image icons to take a closer look at specific sections.