You are here
Back to top
The Race Beat: The Press, the Civil Rights Struggle, and the Awakening of a Nation (Paperback)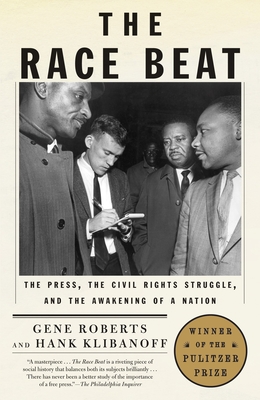 $17.00
Usually Ships in 1-5 Days
Description
---
An unprecedented examination of how news stories, editorials and photographs in the American press—and the journalists responsible for them—profoundly changed the nation's thinking about civil rights in the South during the 1950s and '60s.

Roberts and Klibanoff draw on private correspondence, notes from secret meetings, unpublished articles, and interviews to show how a dedicated cadre of newsmen—black and white—revealed to a nation its most shameful shortcomings that compelled its citizens to act. Meticulously researched and vividly rendered, The Race Beat is an extraordinary account of one of the most calamitous periods in our nation's history, as told by those who covered it.
About the Author
---
Gene Roberts is a retired journalism professor at the University of Maryland, College Park. He was a reporter and editor with the Detroit Free Press, The Raleigh, N.C., News & Observer, Norfolk Virginian-Pilot and The Goldsboro News-Argus before joining The New York Times in 1965, where until 1972 he served as chief Southern and civil rights correspondent, chief war correspondent in South Vietnam, and national editor. During his 18 years as executive editor of The Philadelphia Inquirer, his staff won 17 Pulitzer Prizes. He later became managing editor of the Times.A native of Alabama, Hank Klibanoff is the Managing editor/news at The Atlanta Journal-Constitution. He is the former Deputy Managing Editor for ThePhiladelphia Inquirer, where he worked for 20 years. He was also a reporter for three years at the Boston Globe and six years in Mississippi for The Daily Herald, South Mississippi Sun (now the Sun-Herald) and the Greenville Delta Democrat Times.
Praise For…
---
"A masterpiece . . . The Race Beat is a riveting piece of social history that balances both its subjects brilliantly . . . There has never been a better study of the importance of a free press."—The Philadelphia Inquirer"Fascinating. . . . Just when you think there's nothing left to say about the civil rights movement, [The Race Beat] pulls you back in." —The Los Angeles Times"The Race Beat has good characters, good yarns and good thinking. Just as important, though, it's got a good heart." —Newsweek "Research for The Race Beat is meticulous, uncovering many facts that have gone unreported in other books about the movement . . . proves a necessary addition to anyone interested in learning more about the movement and the journalists whose work helped transform the South and, indeed, the nation." —Chicago Sun-Times
Take a Virtual Tour!
Do you miss the bookstore as much as we miss you? This is your chance to take a virtual walk around the store and visit your favorite sections. Click on the scene selection arrows at the bottom of the image to move to different parts of the store, and click on image icons to take a closer look at specific sections.