You are here
Back to top
Slavery by Another Name: The Re-Enslavement of Black Americans from the Civil War to World War II (Hardcover)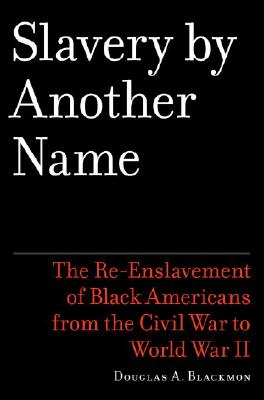 Description
---
In this groundbreaking historical exposé, Douglas A. Blackmon brings to light one of the most shameful chapters in American history—an "Age of Neoslavery" that thrived from the aftermath of the Civil War through the dawn of World War II.

Under laws enacted specifically to intimidate blacks, tens of thousands of African Americans were arbitrarily arrested, hit with outrageous fines, and charged for the costs of their own arrests. With no means to pay these ostensible "debts," prisoners were sold as forced laborers to coal mines, lumber camps, brickyards, railroads, quarries, and farm plantations. Thousands of other African Americans were simply seized by southern landowners and compelled into years of involuntary servitude. Government officials leased falsely imprisoned blacks to small-town entrepreneurs, provincial farmers, and dozens of corporations—including U.S. Steel—looking for cheap and abundant labor. Armies of "free" black men labored without compensation, were repeatedly bought and sold, and were forced through beatings and physical torture to do the bidding of white masters for decades after the official abolition of American slavery.
The neoslavery system exploited legal loopholes and federal policies that discouraged prosecution of whites for continuing to hold black workers against their wills. As it poured millions of dollars into southern government treasuries, the new slavery also became a key instrument in the terrorization of African Americans seeking full participation in the U.S. political system.

Based on a vast record of original documents and personal narratives, Slavery by Another Name unearths the lost stories of slaves and their descendants who journeyed into freedom after the Emancipation Proclamation and then back into the shadow of involuntary servitude. It also reveals the stories of those who fought unsuccessfully against the re-emergence of human labor trafficking, the modern companies that profited most from neoslavery, and the system's final demise in the 1940s, partly due to fears of enemy propaganda about American racial abuse at the beginning of World War II.
Slavery by Another Name is a moving, sobering account of a little-known crime against African Americans, and the insidious legacy of racism that reverberates today.
About the Author
---
DOUGLAS A. BLACKMON is the Atlanta Bureau Chief of the "Wall Street Journal." He has written extensively on race, the economy, and American society. Reared in the Mississippi Delta, he lives in downtown Atlanta with his wife and children.
Praise For…
---
Advance Praise for SLAVERY BY ANOTHER NAME

"A powerful and eye-opening account of a crucial but unremembered chapter of American history. Blackmon's magnificent research paints a devastating picture of the ugly and outrageous practices that kept tens of thousands of black Americans enslaved until the onset of World War II. Slavery by Another Name is a passionate, highly impressive, and hugely important book."
—David J. Garrow, author of Bearing the Cross: Martin Luther King Jr. and the Southern Christian Leadership Conference, and winner of the 1987 Pulizer Prize for Biography

"This groundbreaking book illuminates black Americans' lingering suspicions of the criminal justice system. The false imprisonment of black men has its history in an ignominious economic system that depended on coerced labor and didn't flinch from savagery toward fellow human beings. Blackmon's exhaustive reportage should put an end to the oft-repeated slander that black Americans tend toward lawlessness."
—Cynthia Tucker, editorial page editor of the Atlanta Journal-Constitution, and winner of the 2007 Pulitzer Prize for commentary

"For those who think the conversation about race or exploitation in America is over, they should read Douglas Blackmon's cautionary tale, Slavery by Another Name. It is at once provocative and thought-provoking, sobering and heart-rending."
—Jay Winik, author of April 1865: The Month That Saved America and The Great Upheaval: America and the Birth of the Modern World

"Douglas Blackmon's Slavery by Another Name is an American holocaust that dare not speak its name, a rivetingly written, terrifying history of six decades of racial degradation in the service of white supremacy and cheap labor. It should be required reading."
—David Levering Lewis, professor, New York University, and winner of the 1994 and 2001 Pulitzer Prizes for Biography

"Doug Blackmon has exposed an awful truth about the continued abuse of power and continued post-slavery exploitation of the poor into the twentieth century."
—Andrew Young, aide to Dr. Martin Luther King Jr., and former U.S. ambassador to the United Nations

"Urgent, definitive, powerful. The most important work of history published in a very long time."
—Bill Cosby

"While much has been written about the horrors of slavery, Douglas Blackmon's well researched and powerfully written book reminds us of the ugly period of racial subjugation in America after the end of slavery. This book adds a missing chapter in America's troubled history … and should be required reading in every classroom in America."
—Charles J. Ogletree Jr., executive director of the Charles Hamilton Houston Institute for Race and Justice at Harvard Law School, and author of All Deliberate Speed:Reflections on the First Half Century of Brown v. Board of Education

"To read this book is to cross an intellectual Rubicon: Once opened, you will no longer find it possible to relegate slavery to the distant past. Once opened, this book will change you, and how you perceive race relations in America."
—Harriet A. Washington author of Medical Apartheid: The Dark History of Medical Experimentation on Black Americans from Colonial Times to the Present

"Each time you think you know all about black history comes another revelation. And few have come with as much stunning clarity as Douglas Blackmon's Slavery by Another Name. Blackmon's astonishing research is delivered evenly and concisely."
—Herb Boyd, author of We Shall Overcome: The History of the Civil Rights Movement As It Happened

"Douglas A. Blackmon unravels the backlash against Emancipation and Reconstruction and reveals the growth of an insidious system of morally corrupt legal wrangling and exploitation. Incisive research underscores a lucid narrative history that is at once eloquent and compelling."
—Alan Govenar, author of Untold Glory: African Americans in Pursuit of Freedom, Opportunity, and Achievement
Take a Virtual Tour!
Do you miss the bookstore as much as we miss you? This is your chance to take a virtual walk around the store and visit your favorite sections. Click on the scene selection arrows at the bottom of the image to move to different parts of the store, and click on image icons to take a closer look at specific sections.