You are here
Back to top
Eye on the Struggle: Ethel Payne, the First Lady of the Black Press (Hardcover)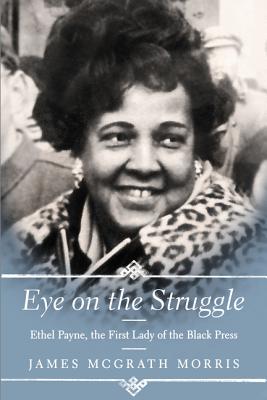 Description
---
Acclaimed biographer James McGrath Morris brings into focus the riveting life of one of the most significant yet least known figures of the civil rights era—pioneering journalist Ethel Payne, the "First Lady of the Black Press"—elevating her to her rightful place in history at last.
For decades, Ethel Lois Payne has been hidden in the shadows of history. Now, James McGrath Morris skillfully illuminates this ambitious, influential, and groundbreaking woman's life, from her childhood growing up in South Chicago to her career as a journalist and network news commentator, reporting on some of the most crucial events in modern American history.
Morris draws on a rich and untapped collection of Payne's personal papers documenting her private and professional affairs. He combed through oral histories, FBI documents, and newspapers to fully capture Payne's life, her achievements, and her legacy. He introduces us to a journalist who covered such events as the Montgomery Bus Boycott, the Little Rock school desegregation crisis, the service of black troops in Vietnam, and Henry Kissinger's 26,000-mile tour of Africa.
A self-proclaimed "instrument of change" for her people, Payne broke new ground as the Washington correspondent for the Chicago Defender. She publicly prodded President Dwight D. Eisenhower to support desegregation, and her reporting on legislative and judicial civil rights battles enlightened and activated black readers across the nation. In 1964, President Lyndon B. Johnson recognized Payne's seminal role by presenting her with a pen used in signing the Civil Rights Act. In 1972, she became the first female African American radio and television commentator on a national network, working for CBS. Her story mirrors the evolution of our own modern society.
Inspiring and instructive, moving and comprehensive, Eye on the Struggle illuminates this extraordinary woman and her achievements, and reminds us of the power one person has to transform our lives and our world.
With 16 pages of black-and-white photos.
About the Author
---
James McGrath Morris is the author of Pulitzer: A Life in Politics, Print, and Power—which the Wall Street Journal deemed as one of the five best books on American moguls and Booklist placed on its list of the ten best biographies of 2010—and The Rose Man of Sing Sing: A True Tale of Life, Murder, and Redemption in the Age of Yellow Journalism, a Washington Post Best Book of the Year. He is one of the founders and past presidents of Biographers International Organization (BIO) and makes his home in Santa Fe, New Mexico.
Praise For…
---
[An] important and often absorbing new book . . . It's a deep pleasure to meet Ethel Payne. 'We are soul folks,' she declared in 1967, 'and I am writing for soul brothers' consumption.' Her own soul beams from this book.
— New York Times

"A riveting biography of a groundbreaking African American journalist . . . In James McGrath Morris's compelling biography Eye on the Struggle, this 'first lady of the black press' finally gets her due."
— O, the Oprah Magazine

"Morris's research on Payne is meticulous…"
— Washington Post

"[A] beautifully written and carefully researched new book."
— Chicago Tribune

"Afast-paced tour through the highlights of 20th-century African-American history, with Payne as witness."
— Boston Globe

"It is through Payne's eyes that author James McGrath Morris deftly shows us the history of post-World War II America."
— Minneapolis Star Tribune

"…James McGrath Morris lifts Ethel Payne from relative obscurity revealing a fearless, intrepid journalist who covered practically every important event of her day…"
— Herb Boyd, National Association of Black Journalist, Hall of Fame, inductee

Ethel Payne was a pioneer who experienced the challenges but little of the glory that comes with the title. With this book, her legacy is assured.
— Paula J. Giddings, author of Ida, A Sword Among Lions: Ida B. Wells and the Campaign Against Lynching

"A deeply researched, skillfully written biography about a previously underappreciated individual."
— Kirkus Reviews

"James McGrath Morris's eloquent book - quite a feat of historical excavation into the black press as well - should bring her many new admirers."
— Wil Haygood, author of the bestselling,The Butler: A Witness to History

In Eye on the Struggle James McGrath Morris lifts Ethel Payne from relative obscurity revealing a fearless, intrepid journalist who covered practically every important event of her day, whether at home in the heat of the civil rights movement or traveling abroad to Africa and Asia. "
— Herb Boyd, author of Brotherman and Baldwin's Harlem

"Eye on the Struggle is an incredibly important act of historical recovery. James McGrath Morris' penetratingly insightful biography of Ethel Payne takes us into the world of the civil rights era black press through the eyes of one its trailblazing journalists."
— Peniel E. Joseph, author of Waiting Til the Midnight Hour and Stokely Peniel E. Joseph, author of Waiting Til the Midnight Hour and Stokely

"A debt of gratitude is due James McGrath Morris for bringing the remarkable life of Ethel Payne out of the shadows."
— Pamela Newkirk, author of,Spectacle: The Astonishing Life of Ota Benga

The rich use of sources and glimpses of Payne's personal life will engage readers interested in civil rights, journalism, and women's history."
— Library Journal

"Besides reclaiming an important figure in American journalism, Eyes on the Struggle offers historical context for the journalistic role that alternative media play in current civil rights movements. . . His quest not only recounts a storied life but also reminds readers of the historic centrality of alternative media in social change."
— Journal of American History

"A well-researched, detailed look at the life of a pioneering journalist."
— The Washington Independent Review of Books

"[A] groundbreaking biography"
— KamWilliams.com

"Morris is not only insightful, but also wise…"
— Dallas Morning News

"Morris has written a fast-paced, engrossing biography…"
— New York Times Book Review

"Biographer James McGrath Morris pulls back the curtain on an often overlooked figure of the civil rights movement with Eye on the Struggle: Ethel Payne, the First Lady of the Black Press."
— Fort Worth Star-Telegram